From premium tapered trucks, plastic mobile bins and straight sided plastic mobile containers to chassis trucks and euro tote bins, Fletcher European manufacture a range of handling solutions for any industry. All part of the guaranteed premium quality, rotoX range.
There are a lot of plastic mobile container trucks to cover, all of which are perfect in their own right when put to use in specific applications, so I'll start with the smallest category (Euro tote bins) and work my way up to the largest (premium tapered trucks).
Plastic Euro tote bins
Euro bins, Euro tote bins, tote bins or buggies, well regardless of what you call them they play a big part within manufacturing and processing lines in the food industry. The majority of you who use or know of the Euro tote bins will have no doubt used or be using stainless steel Euro bins. For many years the stainless steel version was the only option. Large, heavy, noisy tote bins that required labels or tags to define their contents within a food manufacturing production line. Since then the plastic version has arrived, offering a quieter, colour coded option that is just as robust, just as long lasting as the stainless steel version, only the EB03 plastic Euro tote bins are so much easier to clean and have no risk of corrosion or rust to throw a spanner in the works! So if you're not already, why aren't you using plastic Euro bins?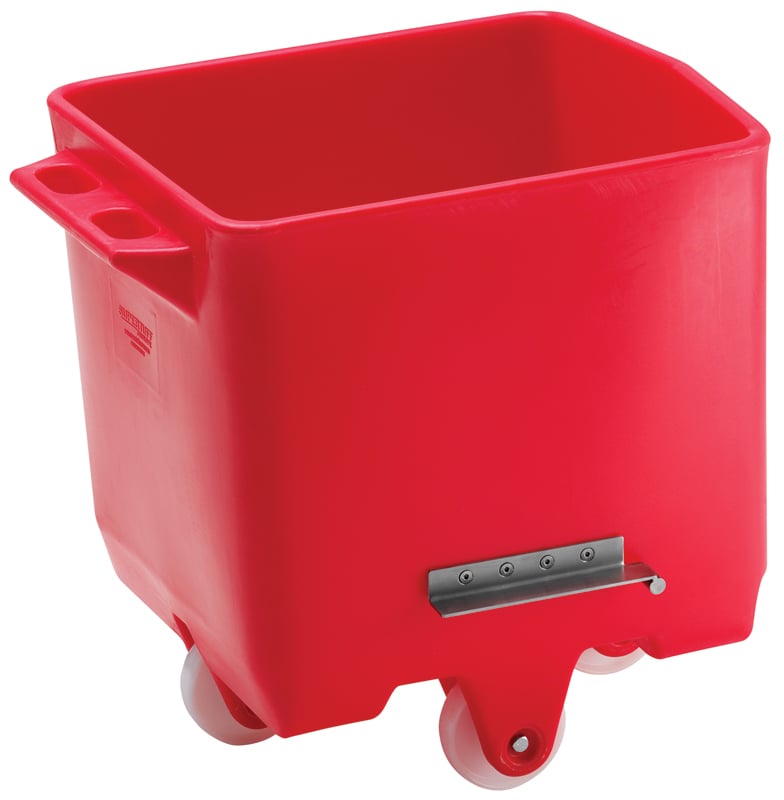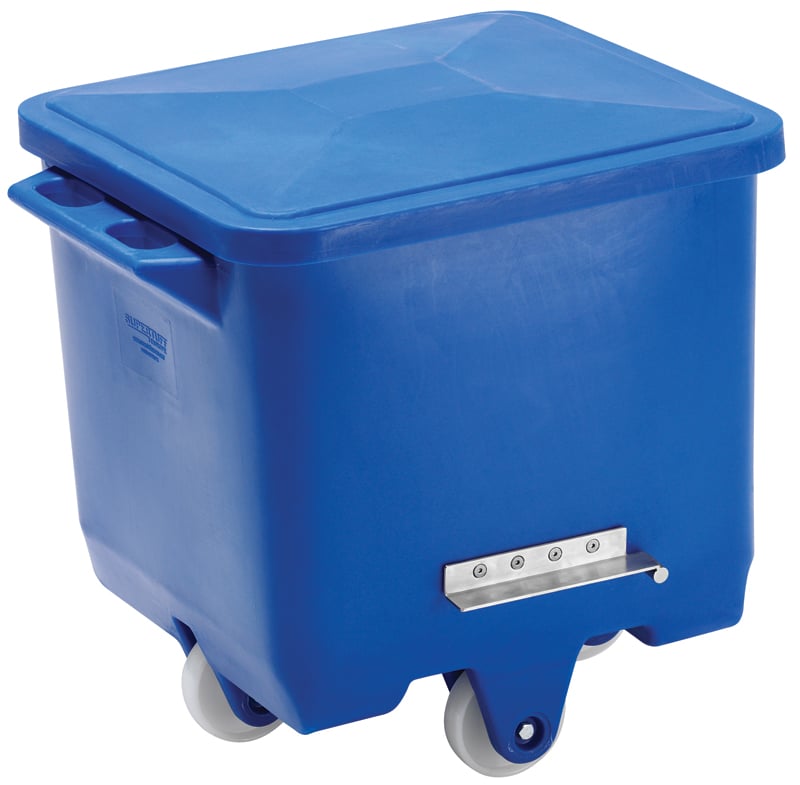 Manufactured in our UK factory from food grade polyethylene plastic the EB03 Euro bin is incredibly strong, one might say nigh unbreakable! Double skinned, the plastic is smooth, seamless and easily cleaned. No risk of corrosion, no risk of rusting, no risk of denting or scratching. The one-piece moulding includes a handle to assist with pulling and pushing and the tote bin sits on four castors in a 'rocker formation'. Two castors at the sides, one at the front and one at the back, allowing the Euro tote bin to rock from front to back helping with filling and emptying as well as mounting onto lifting equipment. This is where the optional lifting lugs come in. Helping the Euro bin to be easily implemented into automated production lines we can fit the plastic tote bins with stainless steel lifting lugs.
To literally put the cherry on the icing on the cake, these plastic Euro tote bins are available in almost any colour you could possibly require. They are also available with matching coloured food grade polyethylene plastic lids to suit. So to get your colour coding spot on, make sure you swap out those stainless steel Euro bins for some hard wearing and incredibly strong plastic EB03 tote bins. If you're not in a position to make the swap make sure you look into the EBL03 plastic colour coded lids, they fit the stainless steel tote bins and make light work of product identification and separation.
Straight sided plastic mobile bins
Within the rotoX range of plastic mobile containers, two of the models fall into the category of straight sided plastic mobile bins, mainly because they are not tapered by design like all of the others. The rotoXM29 and the rotoXM50, with 132 litre and 227 litre capacities respectively, offer mobile container trucks with straight sides suitable for a number of different handling applications. Perfect for handling or storing blocked items, such as boxes or parcels, the straight sided moulded plastic bins offer something that the plastic tapered trucks cannot. The measurements at the top of the plastic mobile bin is the same as that at the bottom, allowing bulky items to sit nicely inside them.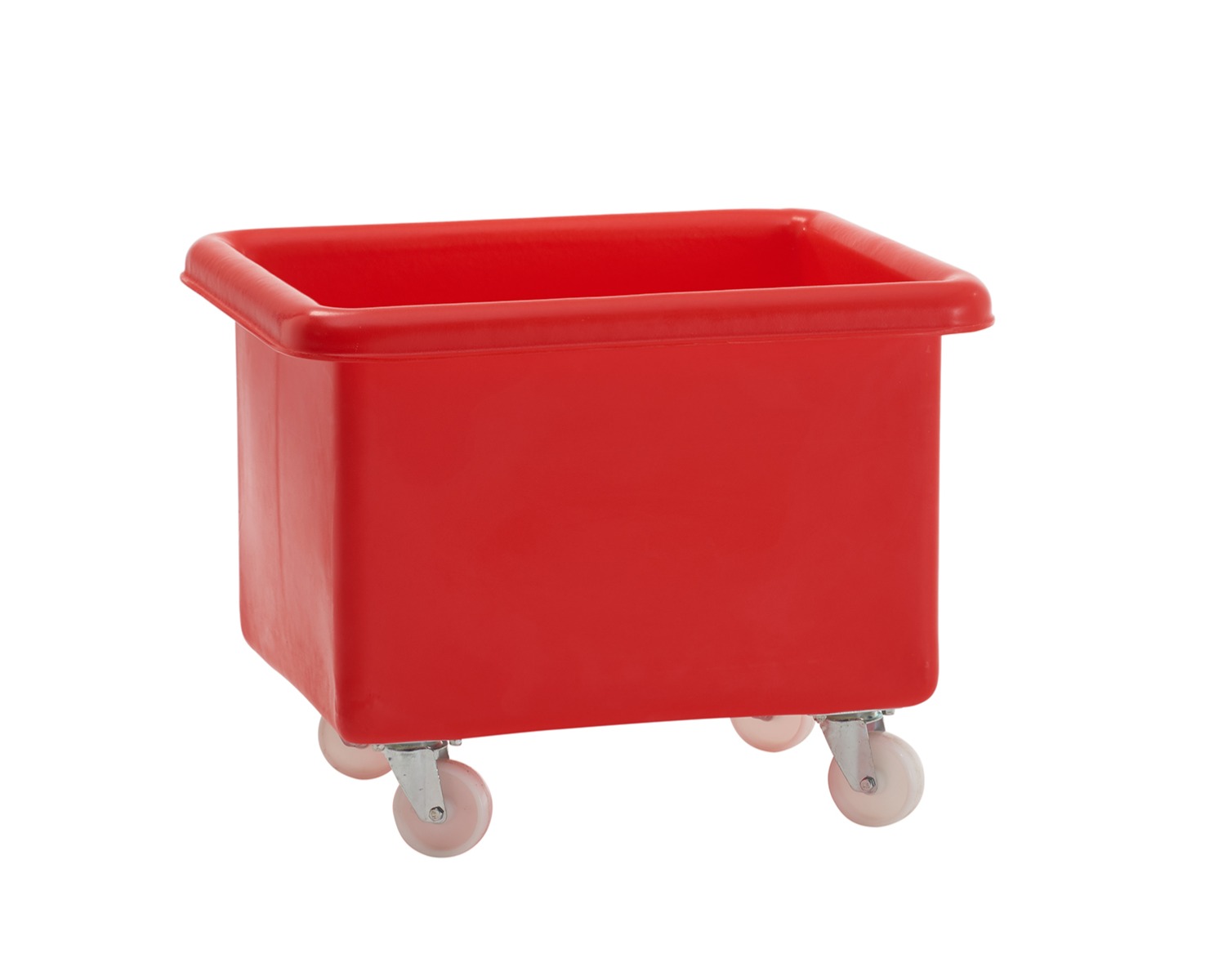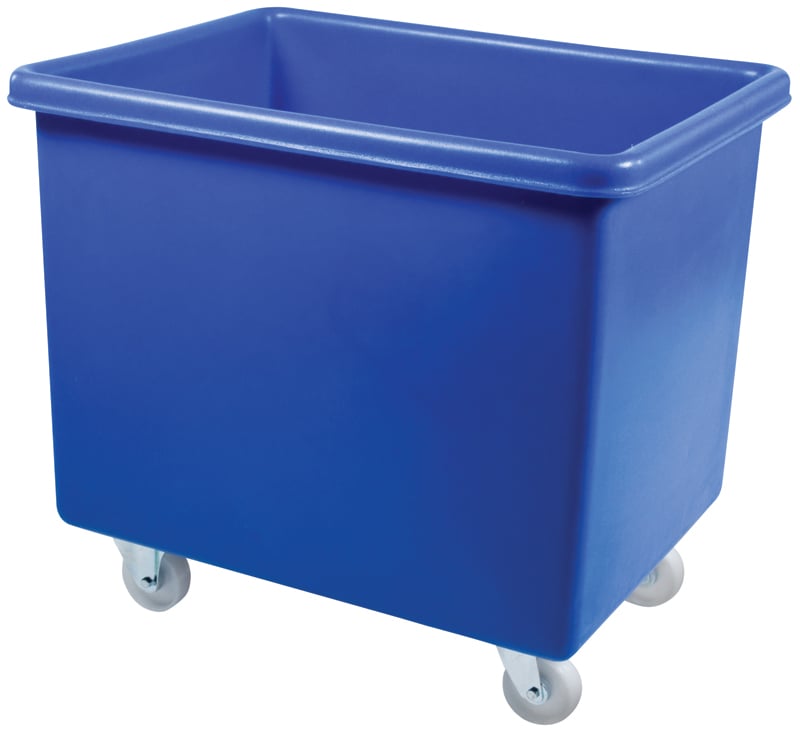 Manufactured from food grade polyethylene plastic the rotoXM29 and rotoXM50 plastic mobile containers are well suited for the food industry, but their use doesn't stop there. Ideal for textiles, pharmaceuticals, warehousing, engineering, catering, hospitality, retail and so on they open up a mobile storage and handling solution for many industries. Optional drop on lids are available and both models of straight sided containers can be supplied in almost any colour you require. The rotoXM50 has an integrated reinforced plastic baseboard for added strength and stability and it can also be fitted with a plastic handle. Easy to clean and very hygienic, their designs offer ample opportunity for any industry.
Chassis trucks
Need a mobile container truck that can handle big, bulky, heavy loads. Our chassis trucks do just the job. Comprised of a stainless steel chassis frame with a food grade polyethylene plastic tank, the chassis trucks we have to offer are ideal for a number of applications within any industry. A popular choice within the food manufacturing, textiles, pharmaceuticals and engineering industries, our 4 sizes of chassis trucks with heavy duty plastic tanks enable you to easily handle heavy loads of goods or products.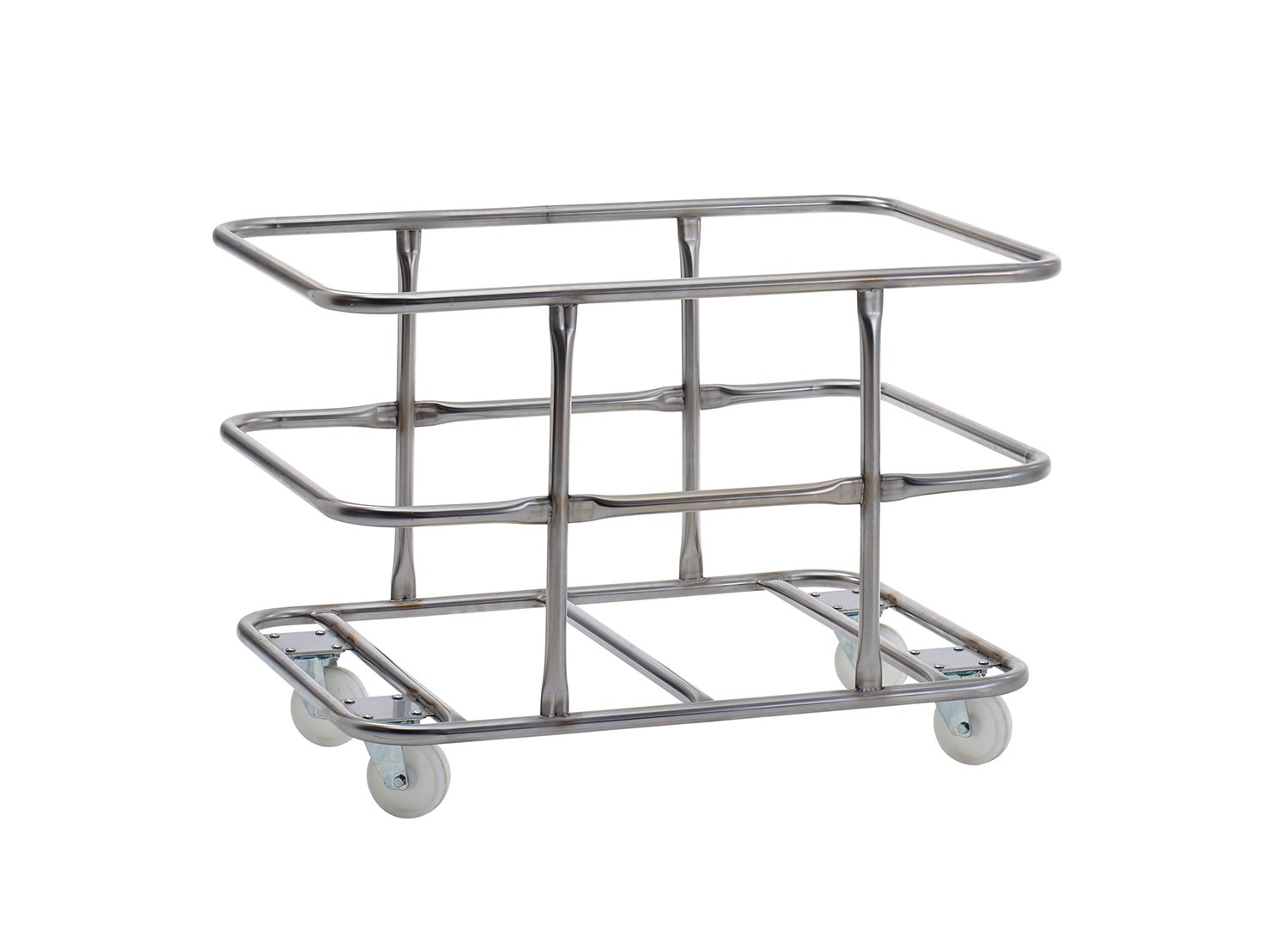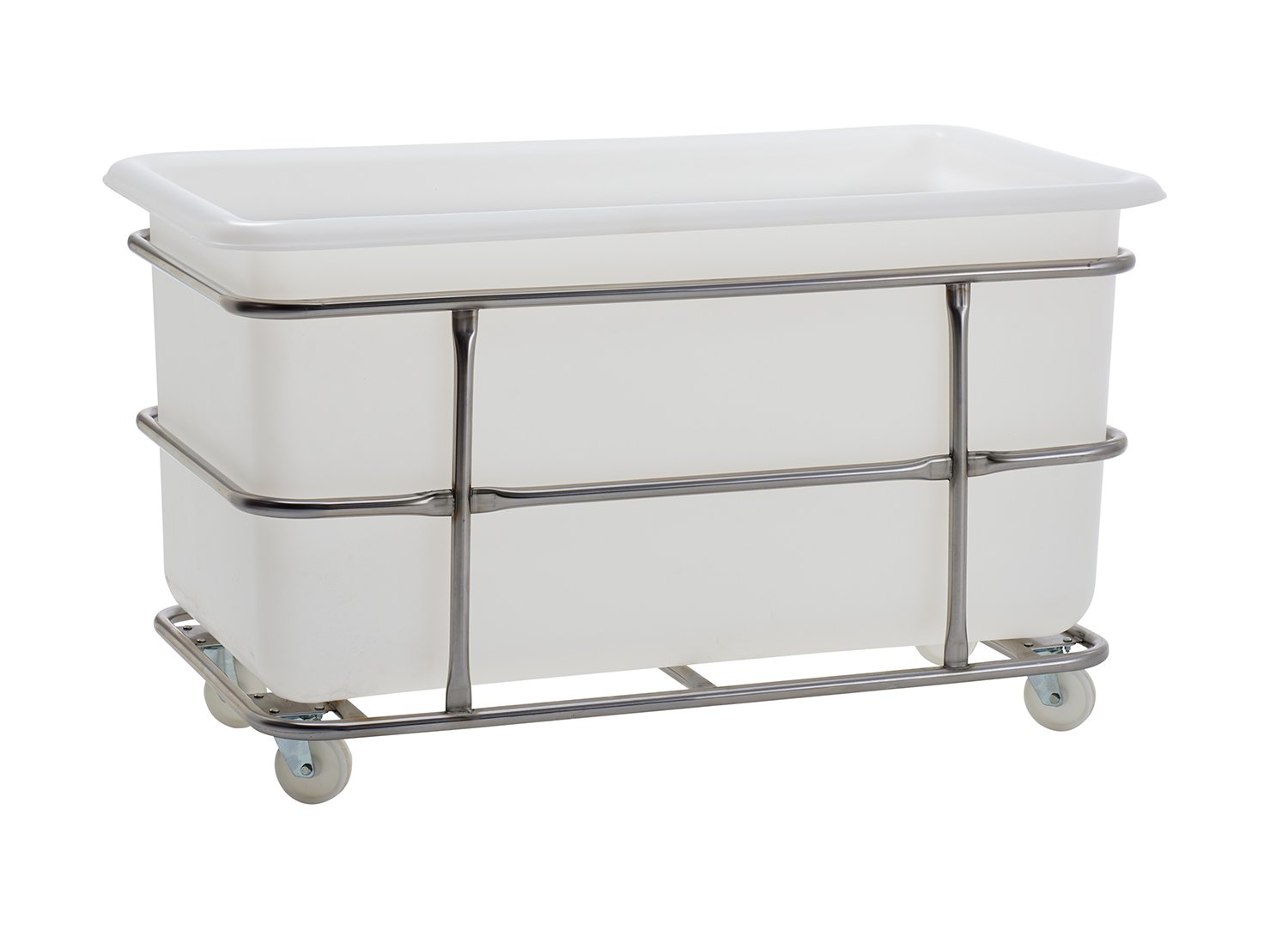 Our rotoX range includes 4 sizes of chassis trucks. The rotoXCT30 (135 litre), rotoXCT45 (200 litre), rotoXCT70 (320 litre) and the rotoXCT100 (455 litre). Manufactured from high grade stainless steel the chassis trucks are corrosion resistant, hard wearing and hygienic. Perfect for food factories, the heavy duty plastic tank is produced from food grade polyethylene plastic, has no crevices, is seamless and is incredibly easy to clean. The plastic tank is watertight, but these can be modified to include plastic taps or drainage outlets. The plastic tank can be manufactured in almost any colour to help with colour coding and they can also be supplied with matching plastic lids if required.
Premium tapered trucks
Finally we come to the premium tapered trucks. From as small as the 72 litre rotoXM16 plastic tapered trucks, up to the huge rotoXM100 (455 litres), we manufacture a selection fit for any industry. A popular model within the food industry is the rotoXM70 (dough bin). These mobile tapered trucks are often used within food manufacturing and bakeries for filling with heaps of dough, allowing it to prove in bulk quantities within a food safe certified plastic mobile container.
Our rotoXM16 and rotoXM26 plastic tapered trucks are commonly used throughout the catering industry. Whether you call them catering bins, plastic mobile bins, mobile ingredient bins, flour bins or premium tapered trucks they offer a food grade plastic storage and handling solution for use within commercial kitchens, hotels, bakeries, pubs, restaurants and many more establishments. Easy to clean, watertight, seamless and hygienic, the catering bins can be supplied in a vast number of colour options with or without lids.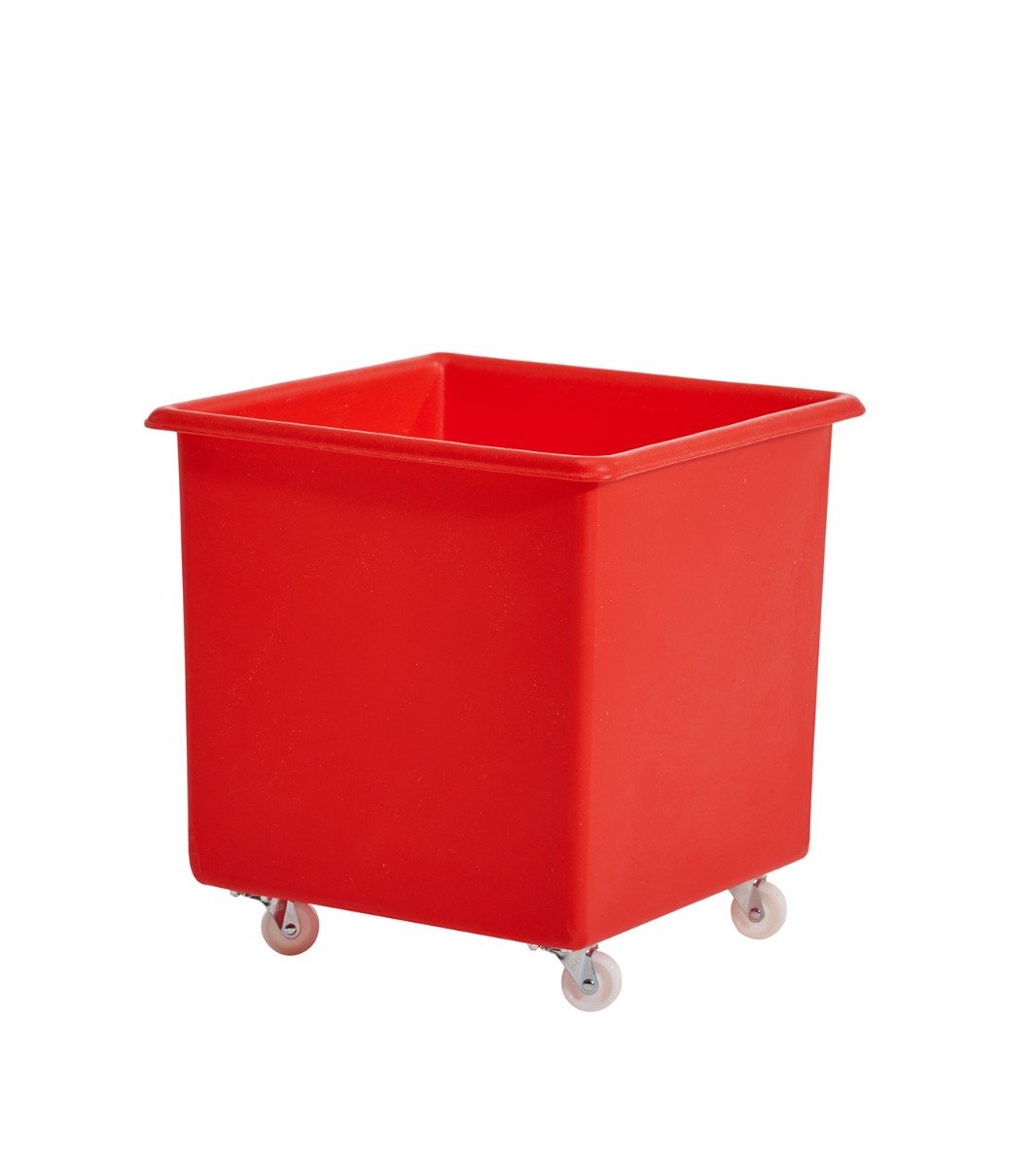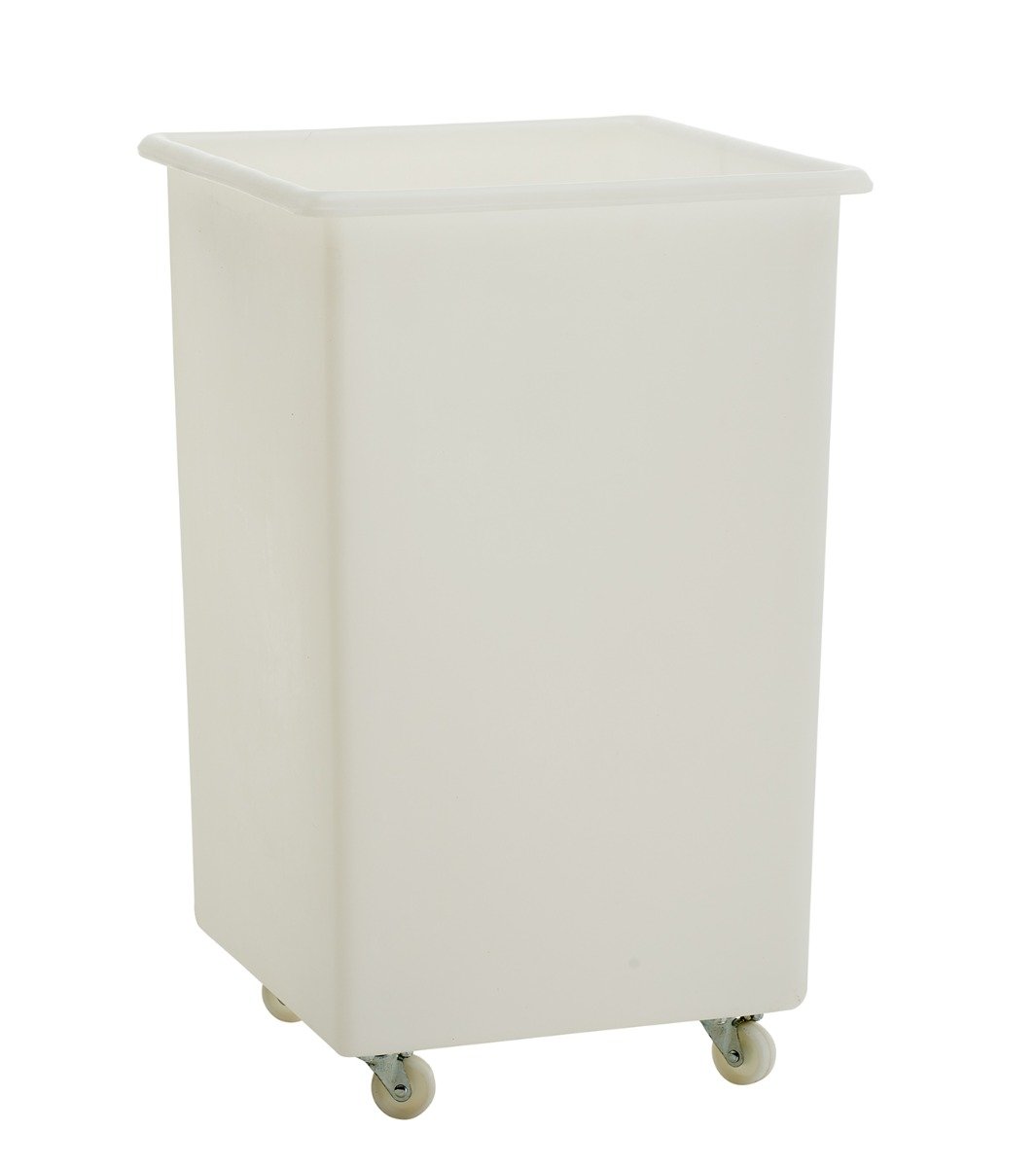 Following suit, the rotoXM30 and rotoXM45 are premium tapered trucks fit for a multitude of different applications. Popular within food production, textiles, waste and recycling and engineering these mobile tapered trucks can both be fitted with plastic handles if required helping to improve their handling as well as negating the need for the operator to stoop at all. Exhibiting the same fantastic traits as the rest of the range of premium tapered trucks, these two are both watertight, seamless, easy to clean and incredibly robust. To help save on storage, due to their tapered design the plastic tapered trucks can be nested inside one another when empty.
To finish off the plastic tapered trucks range we have the 320 litre rotoXM70 and the massive 455 litre rotoXM100. Both equipped with reinforced plastic baseboards, these premium tapered trucks offer large capacities and can handle storing and transporting heavy loads. Manufactured from food grade polyethylene they are well suited to high risk applications within food contact environments as well as hygiene sensitive ones. Optional extras for these amazing plastic tapered trucks include plastic lids, labelling, upgraded castors, handles, drainage taps and bungs.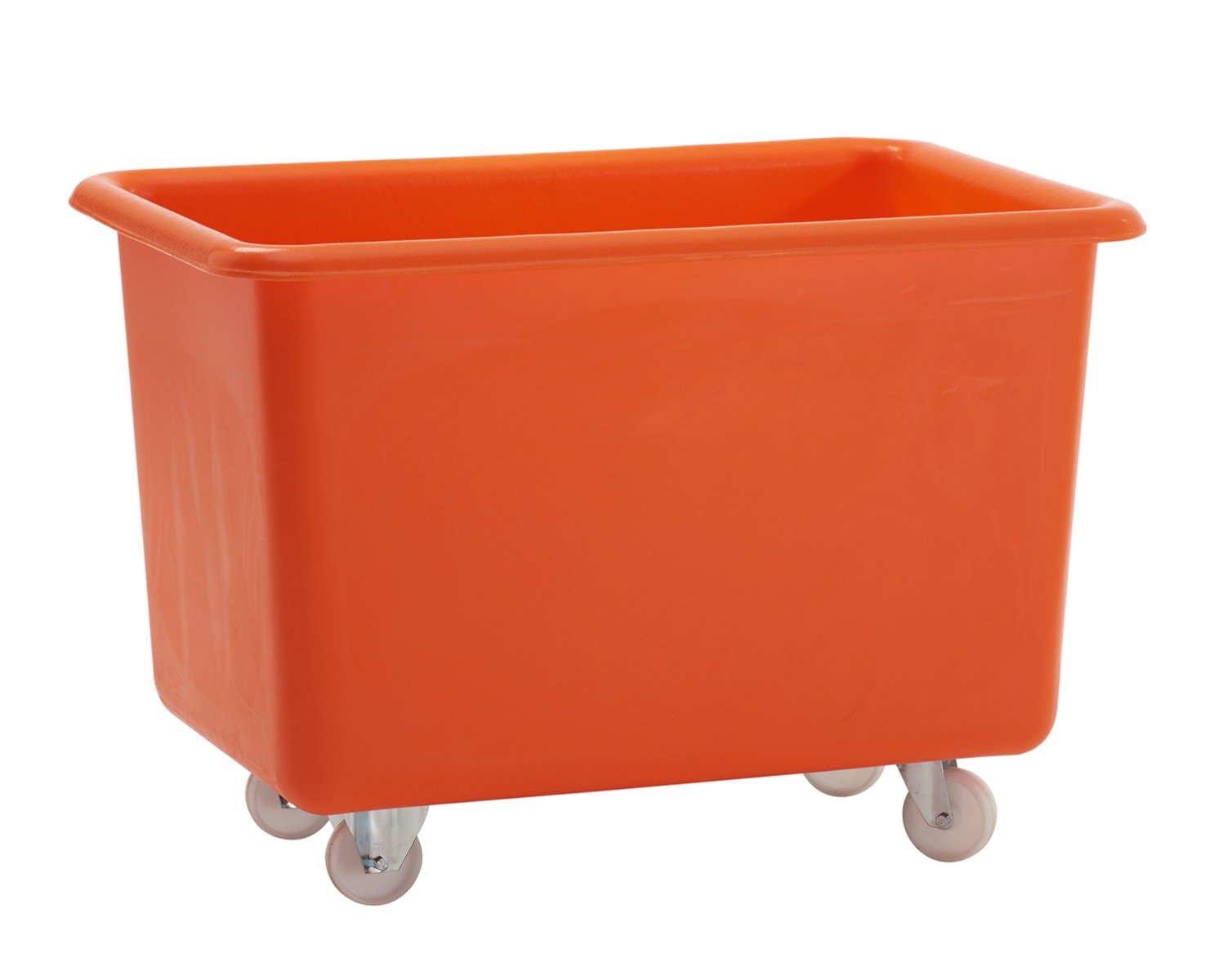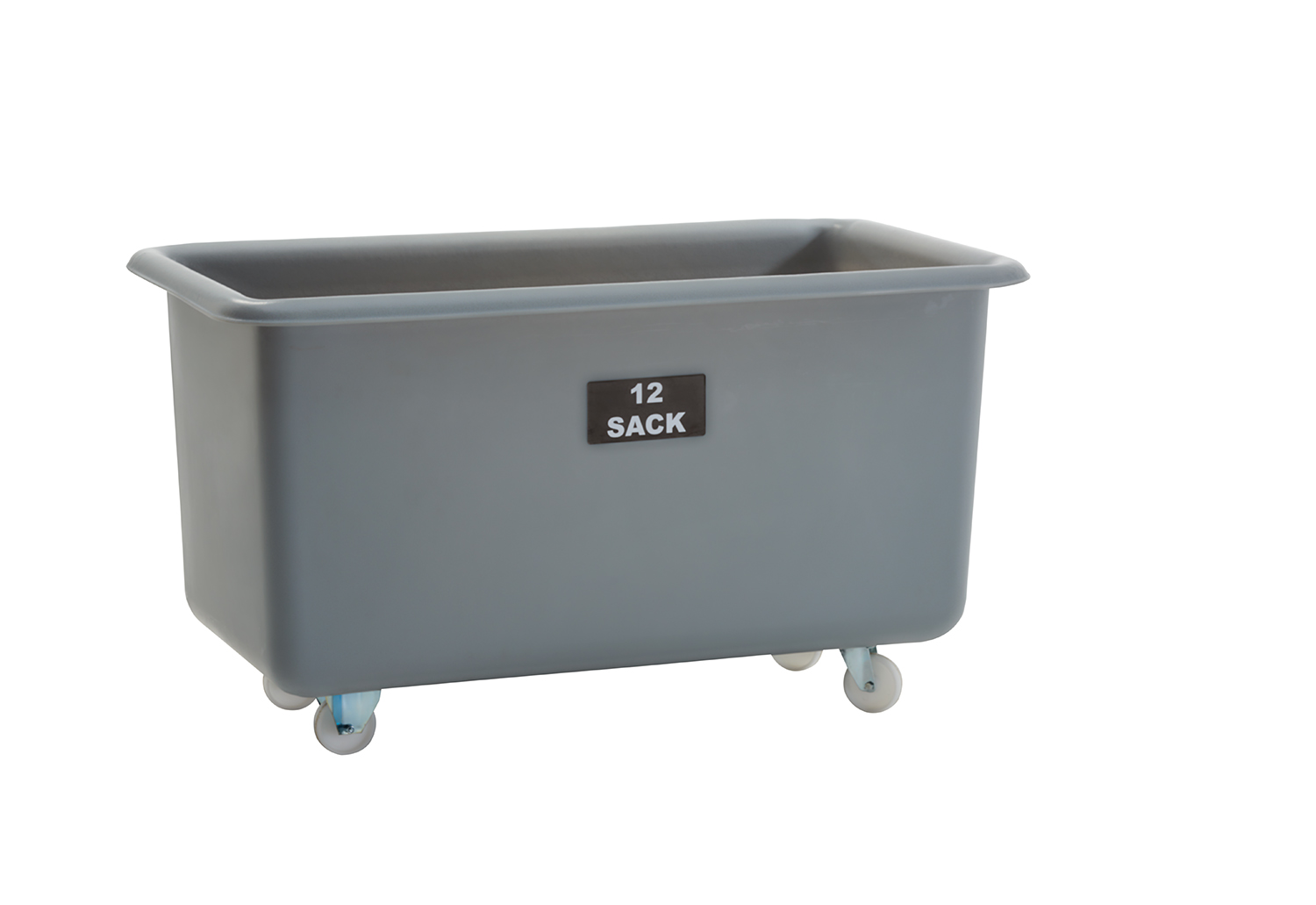 So, what a collection of storage and handling equipment we have to offer. From Euro tote bins to premium tapered trucks you are sure to find what you are looking for… and to top it all off we also offer a range of recycled mobile tapered trucks. Models rotoXM30, rotoXM45, rotoXM70 and rotoXM100 can all be supplied in a BLACK recycled mobile container option. Proving to be just as sturdy, long lasting and reliable as their food grade counterparts, these Eco plastic mobile bins offer a cost effective option for applications not involving food contact.
What more could you ask for?