Plastic storage lockers are the way forward in personnel storage, opening the door to a more secure, hygienic and reliable means for storing your belongings. So, what makes our plastic lockers so great?
To the average person a locker is, well a locker. Therefore, a plastic locker is nothing more than a plastic locker right?. Wrong. For businesses, lockers are often a necessity for storing both staff members belongings as well as customers or clients. Used throughout many industries including education, food manufacturing, retail, leisure, hotels, catering, pharmaceuticals, farming, horticulture and general industry, I could go on but the list is simply endless, our plastic storage lockers provide a hygienic, safe and secure and easy to clean means for storing personnel belongings or equipment.
So why would you choose a plastic locker over the common steel locker? The attributes of a plastic storage locker do speak for themselves, so I will let them do most of the talking. The biggest and main advantage of a plastic locker is its strength and reliability, it really does put other personnel lockers to shame. Fletcher European produce the hygienic plastic lockers via a plastic moulding process called rotational moulding. This slow process ensures that the plastic as a result is incredibly tough and durable, Supertuff in fact. The Supertuff plastic lockers are literally nigh unbreakable, so whereas the standard steel locker would become dented, look worn over time, or dare I say it, is easy to break into… our plastic lockers will stand the test of time and are incredibly secure. This incredible reliability is what makes our plastic storage lockers ideal for businesses and schools, providing workplace lockers that will not need to be replaced for years and years (quite possibly forever!)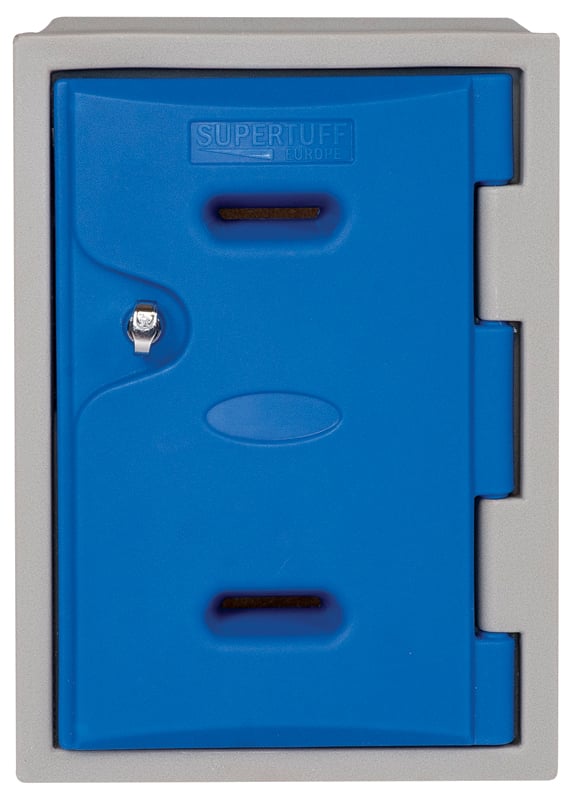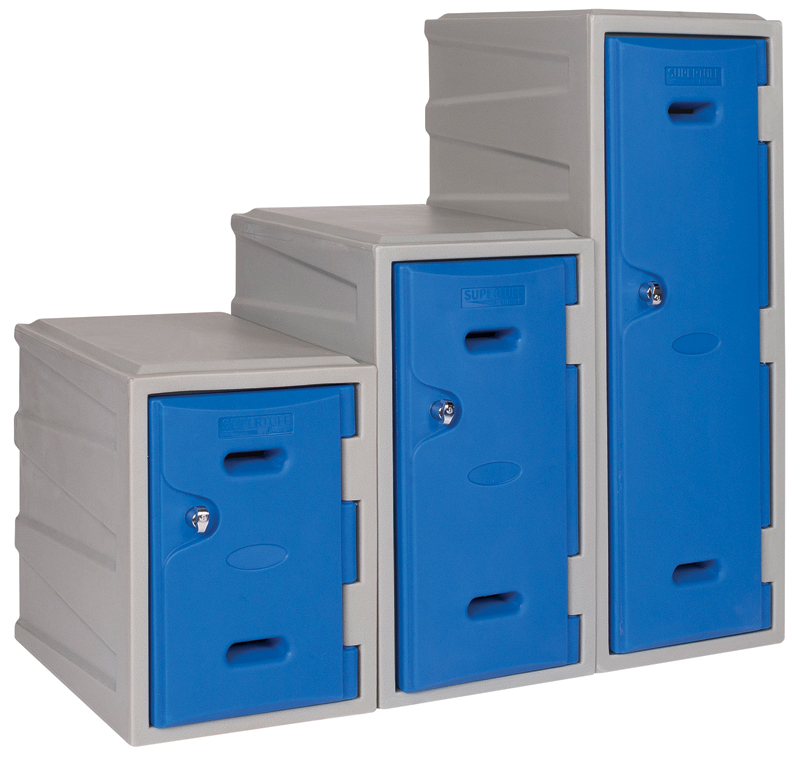 So not only are these plastic storage lockers reliable and incredibly Supertuff by nature, but they are also impeccably hygienic. A great trait when it comes to hygiene sensitive environments within food production, pharmaceuticals, kitchens, leisure centres, swimming pools and laboratories. These easy to clean lockers are made completely from food grade certified polyethylene plastic (except the lock). Not only does the plastic construction enable the workplace lockers to be used indoors as well as outdoors, but it means they can be simply and effortlessly cleaned down. Perfect for use as gym lockers the plastic lockers are almost impossible to break into due their well-developed locking mechanism but they also do not retain odours and can be easily washed down.
Available in 3 different sizes, a small, medium and large the Supertuff plastic lockers can all inter-work with each other, enabling you to stack them and fix them in any order or combination that you require. The 3 sizes of plastic school lockers enable them to be used for any level of education, spanning from primary schools where the small plastic lockers would be most suitable up to secondary schools and further education, where our large plastic storage lockers provide ample space for storing personnel belongings. All three sizes of our plastic workplace lockers are also available in a multitude of colour options. So, if you want the school lockers to match the school colour scheme, or if you work within food manufacturing and you need their colour to denote that they belong to high risk environments, our plastic lockers can be supplied to suit.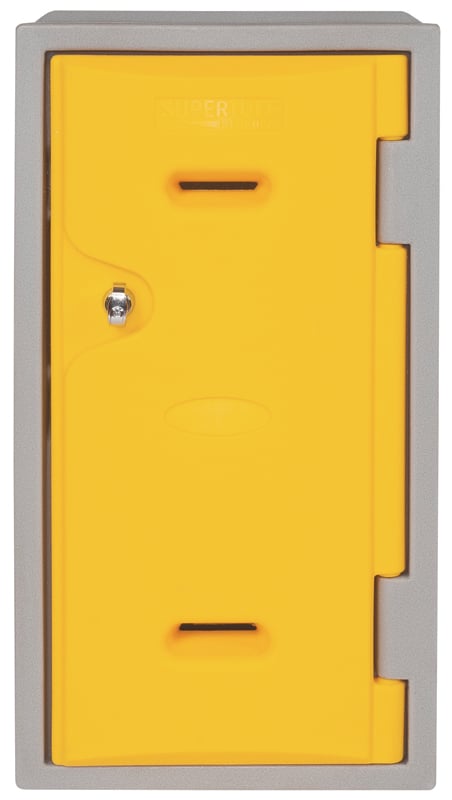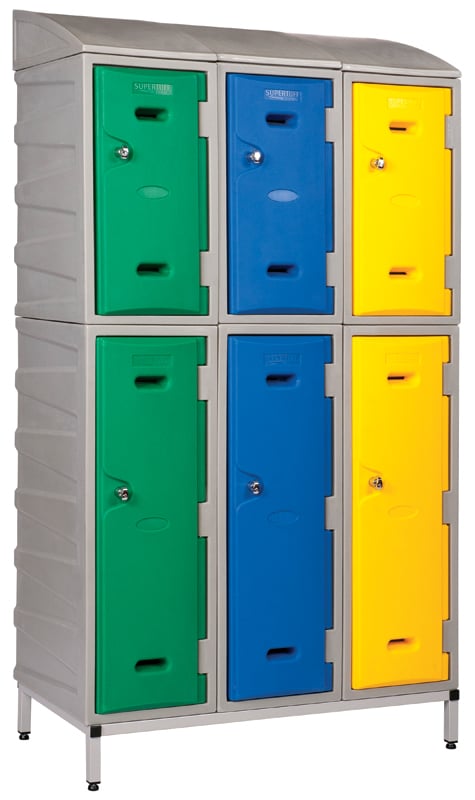 To make these personnel lockers even more enticing, we also offer a selection of different optional extras that can be added to further meet your individual requirements. From different types of locks for the plastic storage lockers such padlockable and coin return, to additional master keys we provide a complete plastic lockers service. Perfect for use in pharmaceutical of food handling environments, we offer steel and stainless steel stands to raise the workplace lockers off the floor. We also provide plastic sloping tops that suit all the sizes, helping to prevent the build-up of litter within changing rooms and schools.
So, if our range of plastic lockers has not won you over with their incredible durability, their undeniable reliability and security, impeccable hygienic attributes and their amazing versatility then why not give our dedicated sales team a call to see if we can further convince you that plastic storage lockers are the way forward. Fletcher European even offer free site surveys, so that we can work alongside you and make sure we provide exactly what you need.
So if you're thinking lockers, gym lockers, storage lockers, school lockers, personnel lockers or workplace lockers… make sure you think Fletcher European. Think Supertuff plastic lockers.